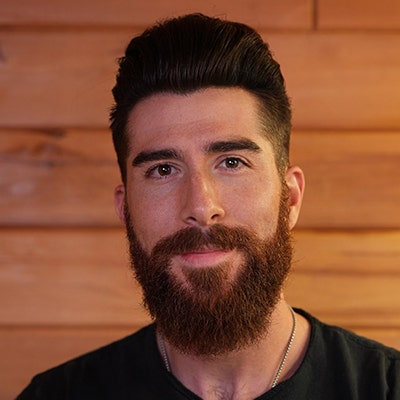 How to Cut your Hair to have a Pompadour Haircut
The Pompadour was popularized by the King of Rock, but the look was originally named after Madame de Pompadour, a mistress of King Louis XV of France. This scandalous style makes a statement, so wear it proudly.
What you will need:
Wahl clipper
Wahl trimmer
#2, #3 and #4 guards
Hair gel or pomade
Comb and water spray bottle
Blow dryer
How to Do a Pompadour Haircut Step-by-Step
1

Use a spray bottle to dampen your hair and then comb it down to remove tangles. You'll need at least three inches of hair on top to achieve this look.

2

3

Move onto section 2 of the head using a #3 guard on your Wahl clipper. Use an upward rocking motion as you reach the top of section 2.

4

Switch to a #4 guard on your Wahl clipper and cut section 3 of the head using an upward rocking motion as reach the top of the section.

5

Move onto section 4. This section should have the longest hair. Remove the guard from your Wahl clipper and use the clipper over finger technique to trim. Start with the bangs, which should be slightly longer than the rest of the hair on top. Once cut, they should easily fold back and over.

6

Once you've cut the bangs, continue to use the clipper over finger technique as you work your way back. Make sure to gradually cut shorter in length as you go. The difference between the length of the bangs and the hair at the crown of the head should be about two inches.

7

8

To finish the look, apply some pomade or hair gel to the top of your hair, then blow dry it back to keep it in place.
Need help deciding what you need?
Having the right tool for the job can make all the difference when it comes to at-home haircutting.
Product Selectors