Wahl to the Rescue
When your best friend needs a little help, it's time to fetch Wahl Pet Products. Whether you're grooming dogs or cats, Wahl has a full line of pet grooming products and offers tips to get the job done right, all while causing as little stress for your pet as possible.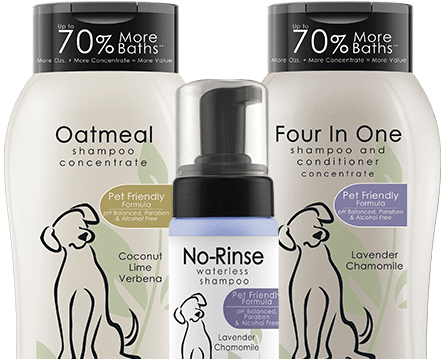 Our New Line of Pet Shampoos
Keep your pet smelling and looking nice with Wahl's dog and cat shampoos. Waterless formula shampoos are great for quick cleaning. There are also deodorizing sprays that help keep your pets clean, fragrant, happy and healthy.
The Perfect Tools for Grooming Your Pet
The right pet grooming tools make it possible to perform pet grooming in the comfort of your own home. Brushing, bathing, clipping, or taking care of nails, eyes, ears and teeth are all possible. Wahl has what you need to keep your dogs and cats happy and healthy from the comfort of your home.
Dirty Dogs Contest
Cookie arrived at the shelter as a stray with severe mats on his ears, legs and chest. With the help of an expert dog groomer, they removed around two pounds of fur, revealing his true beauty. Cookie was quickly adopted and is now thriving in his forever home and living his best life. Cookie's dramatic transformation not only got him a new "leash" on life, but the title of America's Top Shelter Dog Makeover in the 2023 Dirty Dogs Contest. The annual effort from pet industry leaders Wahl and Greater Good Charities demonstrates the power grooming can have on pet adoption and awards the top three dog makeovers with grant money for their local shelter.
Learn How to Groom Your Pet
Brushing and combing your pet's fur on a regular basis helps remove mats and tangles. It also assists with the shedding and keeping hair off your clothes and furniture. Wahl offers a wide variety of dog and cat fur brushes and combs to help keep everyone happy. Grooming doesn't end with brushing though. Check out the links below to learn more about how to groom your pets.