How to Cut your Hair to have an Undercut
Rich in history and style, the undercut is a classic that started in 1910 and resurfaced in 2010. Undercuts allow you to personalize your haircut depending on your desired look, it can either be connected or disconnected, parted or not.
How to Achieve the Undercut
1

Dampen the hair and comb it down so that it lies straight.

2

Comb section 4 of the head into a small horseshoe shape and use a hair clip to hold it in place or hold it to the side with your non-dominant hand.

Note: The horseshoe-shaped section of hair in section 4 should be at least 5 inches in length to slick back or sweep to one side.

3

Using a #1 or #2 guide comb (depending on preference) on your Wahl clipper, begin clipping sections 1 and 2 of the head making sure to not clip into sections 3 or 4.

For a connected undercut, blend sections 1 and 2 with section 3 using a guide comb that is two numbers higher than the one you used previously. For example, if you used a #1, use a #3 (similar to a high & tight haircut).
For a disconnected undercut, leave the hair as is without blending and cut section 3 of the head using the same guide comb used on sections 1 and 2.

4

Remove the hair clip in section 4 of the head or let it fall flat from your hand. Comb flat.

5

If planning to part hair on the side, leave the hair closest to the part slightly longer (6 inches). If combing the hair straight back, there is no need to vary the length.

6

For a connected undercut, attach guide comb #5 and use an upward rocking motion just around the perimeter of the horseshoe.

 If choosing a disconnected undercut, skip this step

7

8

9
Need help deciding what you need?
Having the right tool for the job can make all the difference when it comes to at-home haircutting.
Product Selectors
Related Videos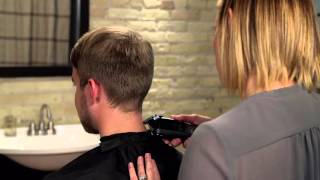 Inverted Clipper Technique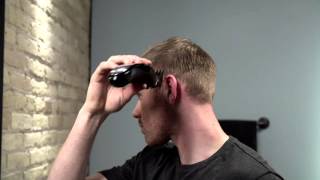 Clipper Upward Rocking Motion