How to Cut your Hair to have a Close Cut
The Close Cut is the cleanest look of them all and it's a style that you can do on your own. Upkeep should be part of your regular routine and it's easy to do with Wahl clippers.
How to Get a Close Cut
1

Use your Wahl clipper with the taper level at its closet position. Using an upward, rocking motion, cut the sides and back of the head, rotating the clipper head as you change sides. Use careful, fluent strokes and a mirror as your guide.

2

Now focus on the top of the head, running the clipper in smooth, straight strokes from front to back. Run the clipper over the same spots, if necessary.

3

Finally, use your shaver to completely shave the head. Use a mirror to check for missed spots.

4

Repeat the process every few days.

 
Need help deciding what you need?
Having the right tool for the job can make all the difference when it comes to at-home haircutting.
Product Selectors
Tips for the Perfect Cut
Guide combs, or guards, attach to the clipper and are designed to cut hair at a certain length.
Related Videos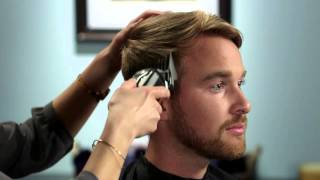 Clipper Guide Combs