How to Touch Up your Sideburns
Your sideburns are an important part of your look. Whether you're tapering, straightening or trimming them, uniformity on both sides is essential. Your Wahl trimmer is perfect for the job but your Wahl clipper can handle it, as well.
How to Trim Sideburns Step-by-Step
1

Spray the side burns with water. It's easiest to trim the sideburns if they're damp.

2

Comb your sideburns so they lay flat in the direction of growth.

3

Using your trimmer or clipper with the blades in the closest setting, use an inverted position and gently apply to sideburn. Cut in a downward direction to reach desired shape of sideburn tips.
Need help deciding what you need?
Having the right tool for the job can make all the difference when it comes to at-home haircutting.
Product Selectors
Tips for the Perfect Self Haircut
Oiling Your Hair Clipper Blade
Oiling the blades reduces friction and keep the clippers from pulling and snagging. A drop of oil at the corners of the blades top, as well as the foot of the blade is all it takes.
Move the Oil Around to Lubricate the Blade
Turn the clipper on to help work the oil in.
Related Videos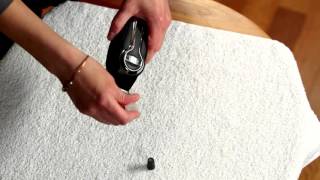 Inverted Oiling Clipper Blades