Top Beard, Body, and Hair Care Products You Should Use
Every time you browse online or head to the store, you're bombarded with a new body, hair or beard care product that you MUST. BUY. RIGHT NOW. Right? Well, not all of those products are right for your grooming needs, and not all of those products are the best option available.
We're here to help you cut through the clutter to ensure you're using the best, most appropriate products for your situation. Follow along as we compare a number of our beard and hair care products and give you the skinny on what you need based on what you want.

Beard Softener vs. Beard Balm vs. Beard Oil
What is Beard Softener?
Beard softener is ideal for doing just what you think—softening. A beard softener is similar to a hair conditioner but is formulated specifically for your facial hair. Beard softener deep-conditions your beard and even moisturizes the skin underneath, leaving a light and fresh scent behind. Take a look at our beard softener to avoid the uncomfortable feelings of a coarse, itchy beard for both you and your sweetheart.
Wahl's Beard Softener moisturizes any damaged whiskers and relieves the itch of new hairs growing in.
How to Use Beard Softener:
To apply your beard softener, dab a small amount onto your finger and then rub your hands together. Apply evenly to those fabulous follicles, working it in with your hands. Use a brush or comb to brush the beard out afterward.
What is Beard Balm?
Soft is one thing, but style is another. Beard balm is a wax-like product, there to help tame an unruly man mane. It's just what the doctor ordered for styling and shaping while also conditioning your beard.
Make sure you pick a beard balm with quality ingredients and beware of any products with sulfates, as they will dry out your beard and skin below. If you need style and hold, you'll need a high-quality beard balm.
Wahl's Beard Balm gives you the style and control your beard demands without weighing you down or leaving your beard feeling oily.
How to Use Beard Balm:
Place a small amount of beard balm in your hand, rub together and begin evenly distributing the wax throughout your beard.
What is Beard Oil?
Beard oil is a product that restores the natural moisture of your beard and promotes healthy growth while relieving itchiness, flakes and dryness. If you're looking for something that does a little moisturizing and styling (but less than beard balm), then beard oil is the answer. Beard oil helps enhance natural shine and moisturizes your whiskers and the face below.
Wahl's Beard Oil is made with a superior formula containing manuka oil, meadowfoam seed oil, clove oil, moringa and many more carefully selected ingredients (also known as our W-Blend) to keep you looking, feeling and very importantly, smelling your best.
How to Use Beard Oil:
To use beard oil like an expert, start with a few drops of oil in your hand. Rub your hands together and work the oil through your scruff and down to the skin below.
Do you need all of these beard care products?
The answer to this question is that it's up to you and what you want! You don't need all three of these products, but including all of them into your beard grooming routine doesn't hurt. As long as you have a product that softens and moisturizes and a product that styles, you're good to go!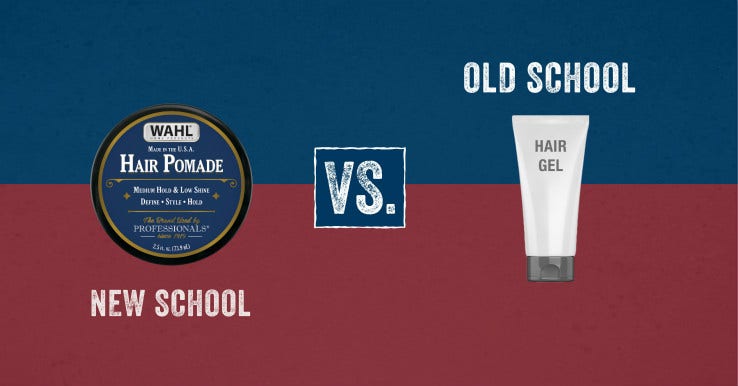 Hair Pomade vs. Hair Gel
What is Hair Pomade?
Hair pomade is a product used to style your hair. There are two kinds of pomade: oil-based and water-based. Oil-based pomades can offer a variety of holds and shines and are often relatively cheap. However, oil-based pomades have also been known to cause breakouts and be a bit more challenging to rinse out.
Water-based pomades are a newer innovation and are often preferred because they're more convenient to use, less greasy and offer a stronger hold.
Wahl's Water-based Pomade retains pliability but doesn't dry or harden as a hair gel would. Pomade gives you the right amount of shine and a lot of hold, so you get a long-lasting style (without the "Greaser" look) throughout the day.
How to Use Hair Pomade:
To apply the pomade, work the pomade into your hair with your hands and then simply comb, brush or handcraft into your desired style. A little goes a long way, so start with a dime-sized amount and add more as you see fit.
What is Hair Gel?
Hair gel is a styling product that is generally a thinner consistency than a hair pomade. Hair gel can be either heavyweight or lightweight strength depending on the hold you need. It is often considered "old school" but it's safe to assume that most men have tried gel at some point in their life. Hair gel provides a stronghold that won't budge all day and is perfect for men who have limited time to get ready in the morning.
However, men with sensitive or dry scalps best beware. Hair gel can be used to achieve a more 'wet' look and often hardens more than a pomade. Hair gel can result in flaking or residue and can lead to a dry and itchy scalp.
How to Use Hair Gel:
If you choose to use hair gel, work the gel into your hair with your hands and then simply comb, brush or handcraft into your desired style. A little goes a long way, so start with a dime-sized amount and add more as you see fit.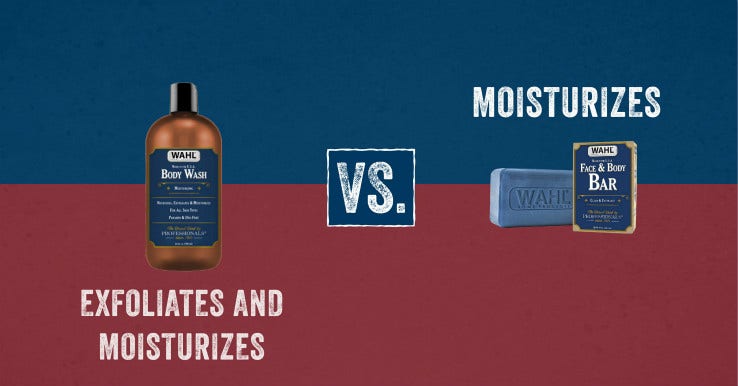 Body Wash vs. Bar Soap
What is Body Wash?
A body wash is a liquid cleansing product that is meant for use on your body (hence the name). Body wash can be moisturizing, nourishing and exfoliating. The main difference between a body wash and a shower gel is the texture. Shower gels are firmer and the main purpose is cleansing, whereas body wash is thicker and creamier, helping to both clean and moisturize your body.
Body wash can also exfoliate, thanks to beads or salt that remove dead skin cells. Regardless of why you're washing up, make sure your products contain high-quality, natural ingredients that won't disturb your skin's natural balance.
Wahl's Body Wash is infused with our W-Blend of essential oils to help refresh, hydrate and retain your skin's moisture throughout your day.
Consider following up your shower with Wahl's Body Lotion for even more moisturized skin.
What is Bar Soap?
Bar soap also cleanses your body, however, it comes in the form of a solid. Bar soap may be something you grew up using, so it's safe and comfortable. Also, bar soap has been known to lather up nicely, helping you feel fresh and clean after your shower.
Wahl's Face & Body Bar is 3x larger than conventional soap bars—so you're getting more coverage per wash and more washes per bar. It not only cleanses your skin, but it moisturizes your skin at the same time. Another unique benefit to the Wahl Face & Body Bar is the rich, soft lather that allows you to even use it for a shave in a pinch. Just lather it up with your shave brush and apply to your face.
Beard Brush vs. Beard Comb
When should I use a Beard Brush?
Wahl's Boar Bristle Beard Brush helps to condition the beard and remove debris like crumbs or dead skin cells. A beard brush is also very effective in distributing products like beard balm and beard oil evenly throughout follicles of varying lengths.
Struggle with facial flyaways? By adding a beard brush to your grooming routine, you are training them to treat your face like a one-way street, not a roundabout. This will also help prevent ingrown hairs. Beard brushes are ideal for beards of all lengths and honestly, it feels darn good, too.
When should I use a Beard Comb?
Beard combs are more specific to long beards and can help detangle any knots. Once your beard is long enough to use a beard comb, it's definitely long enough to require a little bit of stylin'.
Pair a beard comb with beard balm to sculpt your beard to a shape of your liking. Unsure which beard style will best fit your face? Don't worry, we can help you with how to choose your best beard shape. Choose wisely and you (and others) won't be disappointed.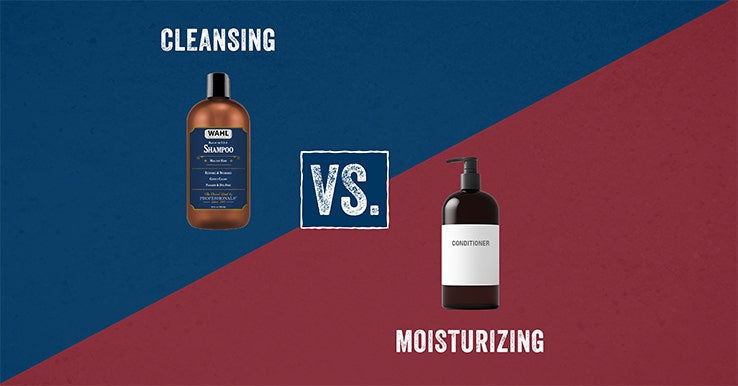 Shampoo vs. Conditioner
Why use Shampoo?
Well… we really hope this one goes without saying. Shampoo is a necessity to keep your hair clean, fresh and healthy. However, if you have naturally dry hair or a sensitive scalp, you can skip shampooing every single day to prevent dryness. Regardless, a quality shampoo should leave your hair stronger, softer and healthier than before.
Wahl's Shampoo is specifically formulated for men to nourish and restore your hair, while also making sure you feel and smell your best.
Why use Conditioner?
Healthy hair requires an extra step and it's one that's often overlooked by men. We're past the days of all-in-one products for men, so you should be using something specifically formulated for you and your hair.
Conditioner provides you with the added moisture and ability to style that you need to keep your locks in tip-top shape. Your hair takes a beating and without conditioner, it may start to lose its luster. You might not need to use conditioner after every wash, but a regular conditioning routine will do your hair a lot of good. So trust us, your hair, scalp and your partner will thank us when your hair is on-point.
You may not need to use every product that's out there, but you should use high-quality products that keep you looking and feeling your best.  Wahl's complete line of body, beard and hair care products are designed with you in mind. S hop our complete line of beard and hair care essentials.