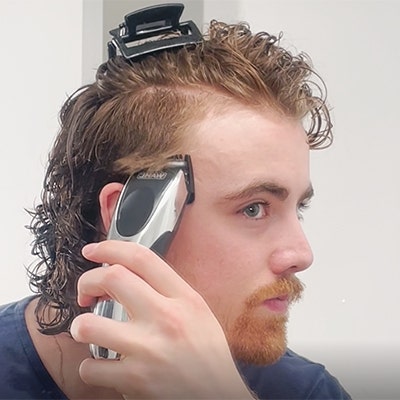 How to Cut your Hair to have a Mullet Haircut
The Mullet is the look often referred to as business in the front and party in the back. Popularized in the 1980s, the look actually goes back centuries with the Vikings, Romans and Native Americans all wearing a variation of this hairstyle. Its distinguishing characteristics are shorter on the sides and longer on the back and top of the head. You can make it your own by wearing it a little longer or shorter on top.
What you will need:
Wahl clipper
Wahl trimmer
#2, #3 and #4 guards
Hairclips
Comb and water spray bottle
How to Cut a Mullet Step-by-Step
1

Use a spray bottle to dampen your hair and then comb it down to remove tangles and curls.

2

Section off the back of your hair from the sides. Also section off the top of the hair from the sides and back. Use hair clips, if necessary. To determine the back of the hair, find the point just behind the ears on both sides, and extend vertically.

3

Cut the sides of your hair using your Wahl clipper with a #4 guard. To create a fade that extends back, use a #2 guard in front of the ears, then a #3 guard, followed by a #4 guard as you get closer to the back of the sides of the head.

4

Cut the top of your hair using the clipper over finger technique to your desired length. The top should be slightly shorter than the back of the hair. For a classier Mullet, keep the bangs longer so you can style them over the top.

5

Cut the back of your hair using the clipper over finger technique. Start at the crown of the head and work your way down. The length should be progressively longer as your work your way down.

6
Need help deciding what you need?
Having the right tool for the job can make all the difference when it comes to at-home haircutting.
Product Selectors