How to Do a Pyramid Mustache
Historians can't pinpoint the exact time when the Pyramid debuted, but men have been marveling at its artistry for ages. The basic shape starts with a wide base at the lip and tapers up to a near point under the nose. When done right, the Pyramid can make you feel like a king.
How to Do the Pyramid Mustache Step-by-Step
1

Shave or closely trim your cheeks, chin, and neck, while leaving the mustache untouched.

2

3

With the trimmer, create a sloped border that starts below the middle of your nose and extends to the corner of your mouth. If feeling particularly adventurous and skilled, you can create a more curved design.

4

Repeat the last step on the other side of the mustache. Make sure both sides are even and equally sloped. Each side should be a mirror image of the other.

5

Trim the lower edge of the mustache to prevent whiskers from crossing the lip line.
Need help deciding what you need?
Wahl offers trimmers and grooming kits that let you achieve the look you want and keep it looking great.
Product Selector
More Mustache Style Tips
Combing Your Mustache
Always comb hair straight down before you trim
Lining Your Mustache
Use a compact precision ground trimmer—like the Wahl Mustache Trimmer—for great lines and hard-to-reach areas like under the nose
Shaping Your Mustache Without a Guide Comb
Experiment with different styles to see what shape suits your face or personality best
Shaping Your Mustache With a Guide Comb
When trimming with a guide comb, work from inside out and cut in a downward motion
Applying the Right Pressure
Applying too much pressure with your trimmer may remove more hair than desired
Using a Taper Guide to Trim
Use the taper guide comb post trim to refine or tighten up any whiskers above the lip
Maintaining Your Facial Hair Between Trims
Remember, style dictates the amount of time you need before trims
Related Videos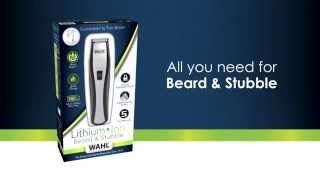 Wahl Lithium Ion Beard & Stubble Trimmer