What Kind of Shaving Products Do I Need?
One of the great things about using an electric shaver is that you don't need to worry about buying shaving cream foam or gels ever again. Some guys, however, still like the feel that an electric shaver gives when using "wet". That's why most Wahl® shavers are designed for either wet or dry use. Consider having these shaving tools around:
Top Recommended Shaving Products
1

Shaving cream, foam or gel

2

A washcloth for preconditioning the area to be shaved

3

4

A soft cleaning brush or canister of compressed air for cleaning
Need help deciding what you need?
Wahl shavers are engineered to provide a fast, clean and close shave, leaving your skin smooth and free of irritation.
Product Selector
Additional Grooming Tips
Oiling the blades reduces friction and keep the clippers from pulling and snagging. A drop of oil at the corners of the blades top, as well as the foot of the blade is all it takes.
Turn the clipper on to help work the oil in.
Related Videos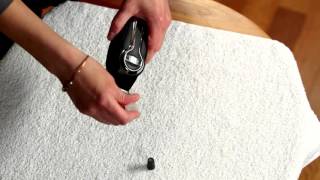 Inverted Oiling Clipper Blades