How to Clean My Shaver
It's important to keep your Wahl® shaver clean to ensure its long life and optimal shaving effectiveness and efficiency. Beard stubble builds up easily, especially if you have thick facial hair, so it's important to clean the shaver, cutter bars and foil after every three or four shaves. Luckily, cleaning an electric shaver is easy.
Steps to Clean Your Shaver
1

To clean, turn the shaver OFF and remove the foil head by pushing the shaver head release buttons on the side of the shaver and lifting the foil head upward.

2

Lightly tap the open side of the foil head on a hard surface to remove the majority of stubble particles. Be careful NOT to tap the actual foil.

3

For easy cleaning, rinse shaver with water. While the foils can be rinsed, it's recommended removing the foil head and rinsing the cutter bars in order to remove the hair on them.

4

Replace the foil head and cutter bars every 12 months or if foils are damaged. Replacement foils can be ordered at WahlUSA.com.
Need help deciding what you need?
Wahl shavers are engineered to provide a fast, clean and close shave, leaving your skin smooth and free of irritation.
Product Selector
Additional Grooming Tips
Guide combs, or guards, attach to the clipper or trimmer and are designed to cut hair at a certain length.
Related Videos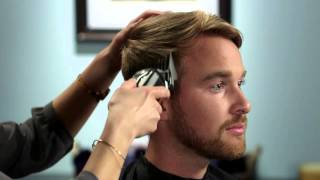 Clipper Guide Combs