How to Clean Up Your Ear Hair
There's no need to draw attention to hair growth in certain areas. Trimming the ears, nose and brows should be part of the regular grooming routine. Wahl offers a wide variety of trimmers to clean up and maintain those areas, helping you always look your best.
How to Trim Your Ear Hair Step-by-Step
1

2

Don't forget to trim the outside edges of the ear where strays tend to grow.
Need help deciding what you need?
Wahl offers trimmers and grooming kits that let you achieve the look you want and keep it looking great.
Product Selector
More Facial Hair Clean-Up Tips
Use Wahl's Ear, Nose & Brow Trimmer for Clean-Ups
Use Wahl's Ear, Nose and Brow Trimmer as it has the flexibility to trim each sensitive facial area safely and efficiently
Three Head Attachments
There are two types of cutting systems to use for these areas—rotary and reciprocating
Clean Up Your Mustache to Keep it Even
For the nose, use short upward strokes into each nostril and always make sure to start at the inside edge where hair growth is thicker
Trimming Your Ear Hair
For the ears, start below the ear canal where hair is most prevalent and don't forget the outside edges where strays tend to grow
Trimming Your Eyebrow Hair
Using a reciprocating trimmer for the eyebrows makes the job easier, but you can use a rotary head—just make sure to use light strokes over long stray hairs
Love Your Look
Make trimming your ears, nose and eyebrows a part of your everyday routine and it can make a big difference in your appearance
Related Videos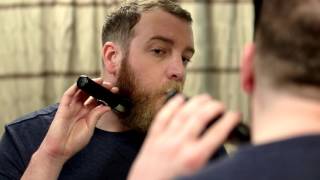 Trimming with and Without Guide Combs