What Kind of Shaver Should I Use?
Wahl has a wide variety of shavers for every face and need. What kind of shaver is best? Consider these different aspects of shavers:
Guide to Picking Out Your Shaver
1

Some guys like using their shaver with water or shaving cream (foam or gel), although Wahl® shavers also deliver a close shave to a dry face. Most Wahl® shavers are versatile wet/dry shavers.

2

Shavers with circular/rotary heads can be difficult to achieve straight cutting lines and may result in an uneven shave. Wahl® shavers have long cutter bars, which help provide a straight shave and a more efficient shave. It also produces a quicker shave.

3

Some shavers require regular charging, meaning they can die in the middle of a shave. Go for a powerful lithium ion shaver that can last months without a recharge, even with regular use.

4

When a quick shave is needed, keep in mind that many Wahl® shavers can be used after only a 1-minute quick charge.

5

Get an ergonomic design, that fits snuggly in your hand. Wahl's LifeProof shaver is even safe to drop because of its shock-resistant housing.
Need help deciding what you need?
Wahl shavers are engineered to provide a fast, clean and close shave, leaving your skin smooth and free of irritation.
Product Selector
Additional Grooming Tips
Start trimming just above the Adam's apple.
Work towards the ears to get a straight line.
Don't go ear to ear, which may lead to an uneven line.
Related Videos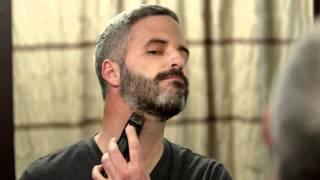 Lining Your Beard