Overview 

American Eskimo Dogs have surprisingly little to do with Eskimo culture. They are descended from German Spitz dogs, but they were brought to America as circus performers and trick dogs. Today they make adoring, entertaining companions. American Eskimo Dogs come in standard, miniature and toy varieties that are all shown within the same standard. They range in size from 9 to 19 inches tall. These white Spitz dogs look like miniature Samoyeds. American Eskimo Dogs have bundles of personality and bundles of hair. They make involved, entertaining and constantly charming companions for owners who are ready to put up with some attitude and some brushing.

Personality 

These white, cheerful dogs charm their way into their owners' hearts, which is how they demand attention and affection. American Eskimo Dogs can resort to pestering if they feel that they are being neglected. They love to feel as if they're part of the family, and they will eagerly insert themselves into situations where they feel they belong. American Eskimo Dogs love to bark and chew, which are too not-so fun habits that they will use to demand attention when they feel neglected. They can be snappy and suspicious of strangers if they are not taught to accept newcomers from a young age.

Indoors, these dogs are playful and spunky. They often make up games or attempt to involve their owners in their playtime. They learn quickly and are eager to please, but they can be stubborn and they do not respond well to harsh corrections, so make sure training emphasizes their positive traits.

Coat Care 

American Eskimo Dogs' fluffy white coats stand off from the body. The thick double coat has a dense, soft undercoat and a longer outer coat of guard hairs. The coat should be straight and never curly or wavy. The coat thickens around the neck and chest to form a ruff and is longer along the hind legs and tail. The plumed tail is held up proudly over the American Eskimo Dog's back. Their ears and faces are covered with short, smooth hair.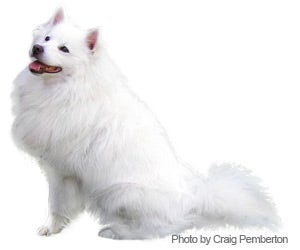 Not surprisingly, these guys shed. Frequent brushing will cut back on the amount of hair you find left around the house. They require thorough brushing two to three times a week with a pin brush and a metal rake comb to remove mats and tangles. Check for mats around the legs and behind the neck and ears.
Their abundant coats are comparatively easy to care for. Bathing them will help keep their hair healthy and help stimulate hair growth. American Eskimo Dogs have naturally oily coats that repel water and dirt, so despite their white coats, you do not have to worry about bathing them more frequently.
If you plan to show your American Eskimo Dog, you shouldn't trim their profuse coats anywhere except around the feet and rump. If not, you should use a trimmer to trim around their faces and ears, and of course around their paws and behinds, to help them stay comfortable and make it easier for them to move around.
Many dog owners are apprehensive about trimming their dog's nails because they are nervous about cutting into the quick. But with the right conditioning and careful cutting, nail clipping can be a simple, stress-free activity for you and your dog.

Provide your dog with plenty of positive reinforcement and even treats to help associate nail clipping with a positive experience.  As you start to clip, gently press on your dog's paws to help him become accustomed to the feeling of having his nails clipped. Then, work gradually, shaving down just a thin portion of the nail at first to make sure you don't reach the quick. Clip one nail, reward your dog with a treat, and stop to give him some positive reinforcement before moving on. Gradually increase the number of nails you clip in one sitting to help your dog get used to the process. Never trim extremely long nails down to a short nail in one sitting, because this is an excellent way to accidently quick the dog's nail. Instead, work gradually, shaving small portions of your dog's nails off each time.

You can tell if you're getting close to the quick by the texture of your dog's nail. The nail is hard closer to the surface and becomes softer as you get closer to the quick. If your dog's nail starts to feel softer, that's a good indication that you're getting close to the quick.
Not all breeds and coat styles require routine trimming in and around the eyes and ears but all should undergo regular inspection and cleaning around these sensitive areas. Doing so will help prevent the development of infections that could seriously damage these amazing organs.

It is always important to routinely clean your dog's eyes and ears, and examine for potential infections. Small dogs, like Pomeranians, and dogs with extremely profuse coats, like Newfoundlands, American Eskimo Dogs and Keeshonds, have ears that need to be checked weekly for infection and cleaned with a cotton ball. Gently wipe a cotton ball moistened with mineral oil, olive oil or witch hazel in your dog's ear, being careful to avoid the ear canal. Never use a Q-Tip, which could cause damage to the inner ear if your dog suddenly shakes or jerks his head. Bushy hair growth within the ear can be thinned with tweezers or blunt scissors. Use a small trimmer to trim excess hair around the eyes, ears and face. Small dogs like Pomeranians and Pekingese, and dogs with white coats like American Eskimo Dogs and Samoyeds, are prone to developing tear stains around their eyes, so clean around their eyes with a cotton ball or soft cloth and use a small trimmer to trim excess hair around their eyes.
Many owners do not realize how important it is to brush your pet's teeth on a regular basis. Some dogs are prone to dental problems and sensitive teeth, especially small dogs with tiny teeth and dogs with special diets. These problems can be easily combatted with frequent brushing.

Cavities are rare with dogs but gum disease caused by tartar buildup is not, which is why they require regular brushing with toothpaste and a toothbrush formulated specifically for dogs. While daily brushing is ideal, doing so on a weekly basis will be a big help in avoiding the need to bring your dog to a veterinarian for a cleaning, which usually has to be done under sedation.