Leg & Foot Pain
Massaging legs and feet can provide relief after workouts or at the end of a long day.
Steps to Relief
1

Begin at the area below the waist in back, just under the tailbone.
Move outward from the hips, going from center to side in an across and down motion. Use a circular motion over the hip joints.

2

Massage the thighs up from the knees to the buttocks. Then massage the calves up from the ankles to the knees.

3

When massaging the feet, massage only the arches and bottoms.
Need help deciding what you need?
Where you hurt and why you're hurting are two key factors in deciding which massager is best for your specific pain relief.
Product Selector
Tips
Rest and/or active recovery: First of all, ease into workouts. If you haven't been working out on a regular basis, going full throttle right away, particularly with consecutive-day workouts, is going to result and aching muscles.
Hydrate: Drinking water during and after exercise helps the body rid itself of toxins, while fighting off dehydration, which can result in painful muscles and excruciating muscle cramps.
Proper nutrition: Protein sources are necessary to rebuild muscle tissue and fuel the function of various cells, tissues and enzymes. Carbohydrates are vital, as well.
Related Videos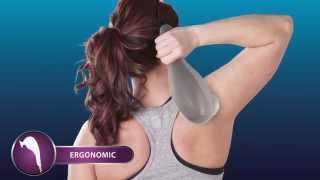 Wahl All Body Massager