How to Cut your Hair to have a High & Tight
The popular High & Tight haircut has the back and sides are shaved to the skin while the top is blended or faded into longer hair.
How to Achieve a High & Tight
1

Dampen the hair and comb it down so that it lies straight

2

Attach guard #1 or #2 and buzz sections 1 and 2 at this length using upward rocking motions, starting from the bottom and working your way up. A #1 guard will leave hair 1/8 inch long and a #2 will leave hair ¼ inch long

3

Use guard #5 or #6 to clip the hair in section 4 of the head. A #5 guard will leave hair 5/8 inch long and a #6 will leave hair ¾ inch long.

4

Blend into section 3 using the #2 guard

5

Use the inverted clipper technique to clean up the area around the ears and the back of the neck

6

The high & tight requires a trim every two to three weeks

 
Need help deciding what you need?
Having the right tool for the job can make all the difference when it comes to at-home haircutting.
Product Selectors
Tips for the Perfect Cut
Guide combs, or guards, attach to the clipper and are designed to cut hair at a certain length.
Related Videos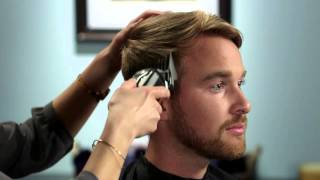 Clipper Guide Combs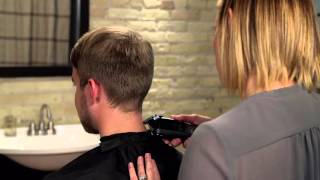 Inverted Clipper Technique