How to Cut your Hair to have a Brush Cut
If you're a busy man with little time to fuss over your hair, the Brush Cut may be for you. Easy to cut and easier to upkeep, it accentuates your face, while allowing for daily variations.
How to get a Brush Cut
1

Dampen the hair and comb it out.

2

Select your Wahl clipper's appropriate attachment guard for the desired length. Start in front of the right ear and cut the hair in sections 1, 2 and 3. Be sure to cut the hair at the nape of the neck.

3

Blend the hair from section 3 to section 4 by moving the clipper straight up.

4

To cut the hair in section 4, hold the hair straight up and use the technique that you are most comfortable with, such as clipper-over-fingers to shorten the hair. Cut the top of the head from front to back.

5

To complete the look, trim the sideburns, around the ears and neckline using the inverted clipper technique or with a Wahl trimmer.

6

Use styling gel to finish the cut, if desired.

 
Need help deciding what you need?
Having the right tool for the job can make all the difference when it comes to at-home haircutting.
Product Selectors
Tips for the Perfect Cut
For detailing around the ears, sideburns and neckline, try the inverted clipper technique. Just turn the clipper upside down so the blade is facing downward.
Hold the clipper in your hand as if it is a thick pencil. Touch the blade to the skin. There's no need to press firmly.
Related Videos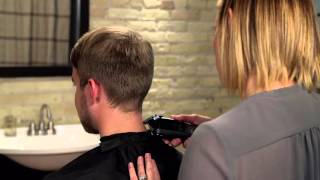 Inverted Clipper Technique