Guide to Personal Grooming Tools
Should you use a clipper on your beard hair? Or a shaver on your head? When do you use a trimmer or a detail trimmer? Today, there is a multitude of products to use on the hair all over our bodies. But how do you know which product does what job?
Don't worry, we have you covered. We created a quick and easy guide of the differences in the products to guide you through the process of total grooming.

Hair Clippers and Trimmers

What is a hair clipper?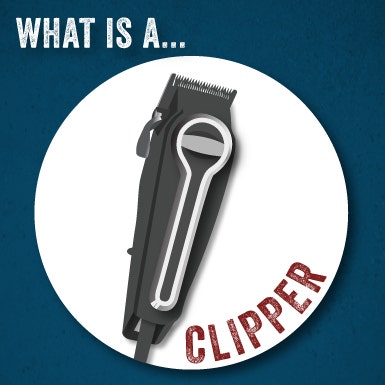 Hair clippers are designed to cut longer hair (usually hair on the head) and they do not cut as close to the skin as trimmers or shavers.
The original version of hair clippers were operated manually until Leo J. Wahl invented the electromagnetic hair clipper in 1919. Manual hair clippers included a pair of handles that when squeezed together would cut hair. The electromagnetic hair clipper utilizes a motor to power the blades to cut.
Since then, hair clippers have become more advanced. Some now include rechargeable lithium-Ion batteries that are used to make hair clippers cordless. A corded clipper needs to be plugged into an outlet to operate while a cordless clipper can be charged and operated without a cord for more haircutting freedom.
What about the accessories?
Hair clippers usually come with a few guide combs to help you achieve your desired length. The attachments can range from 1/16" to 1", so you can change your look easily. Our best piece of advice is to choose a longer guide comb to start and follow up with shorter ones as you become more comfortable.
While clippers are primarily for the hair on the head, you can use a clipper on longer and thicker beard hair. For shorter beard hair, we recommend using a trimmer.
Recommended for use on: Head and face.

What is a trimmer?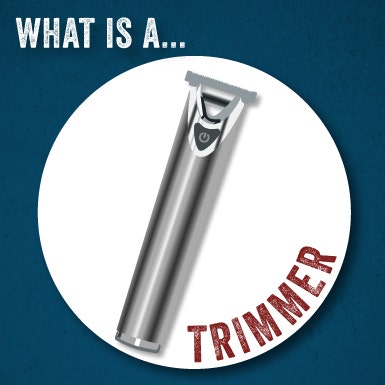 A beard trimmer is designed to cut (or trim) shorter or finer hairs, like facial and body hair, because of the blade and tooth size. Trimmers cut closer to the skin and are made to work on the finer details of the beard, face and body.
Trimmers can also be used for detailing and for trimming hair on the face ( like sideburns ) aside from just the beard. Trimmers can also be used on body hair as needed.
Trimmers come with a variety of attachments and guards that work like those that come with your clipper, but are sized differently. We recommend referencing the instruction manual included with your trimmer for proper use.
Recommended for use on: Face, neck, chest, stomach, back, legs and arms

What is a detail trimmer?
Detail trimmers, also known as personal trimmers, can be used on the ears, nose and eyebrows . Most detail trimmers will include a variety of attachments, or heads, like a precision detailer head for eyebrows and sideburns, a rotary head for nose hair, and a reciprocating head for details, edging and ears.
When deciding to trim these areas, reference your instruction manual to understand the use of each piece. No matter which area you've decided to trim, always be careful and take your time as your face is a sensitive place. For information on how to use a personal trimmer, check out our grooming advice everyone needs to know .
Recommended for use on: Face, ears, nose and eyebrows.

Electric Shavers and Razors

What is a shaver?
A shaver is an electric device that is used to achieve a clean-shaven look. Shavers fall into two categories: foil and rotary.
Use a foil shaver when looking for a close-to-the-skin shave. Rotary shavers are better for longer and thicker facial hairs.
Shavers can be waterproof (totally submerged in water), water-resistant (used in shower), or dry (not to be used with water). Check out our guide to help you decide what kind of shaver you should use . Your shaver may not be water-resistant, but dependent on the shaver, you may need to rinse the head with water to clean it. Reference the included instruction manual for proper usage in and near water.
Recommended for use on: Face.

What is a razor?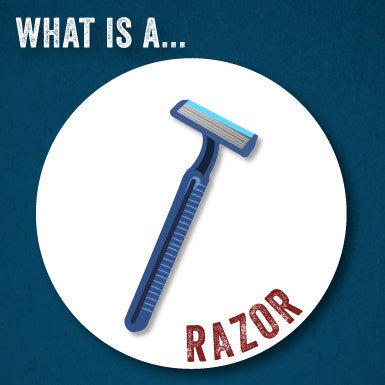 Razors are often used on shorter hair, anything longer requires a quick trim with your trimmer followed by a closer shave with your razor.
Razors are typically used to shave the face, legs or body. Unlike a shaver, a razor is not electric and requires manual movement across the face or body.
Razors come in various styles and include different numbers of blades. Over time, you will need to replace the blades as they dull with use. Razors often require shaving cream or gel and should only be used when wet.
Deciding between a shaver and a razor might come down to personal preference, but most high-quality shavers can give you almost as close of a shave as a manual razor.
Recommended for use on: Face, chest, stomach, legs.

The Bottom Line
Each grooming tool has a primary function, but at times can be used interchangeably. Taking the time to research the product and understand your own hair needs is crucial in choosing the right product for the job.
No matter what tool you end up with, also keep in mind proper care. You should always keep your tool in tip-top shape in order to keep it running well and to keep your look maintained. If you're ready to upgrade your grooming game, check out Wahl's full line of grooming products, including trimmers , clippers , shavers and beard & hair care products .